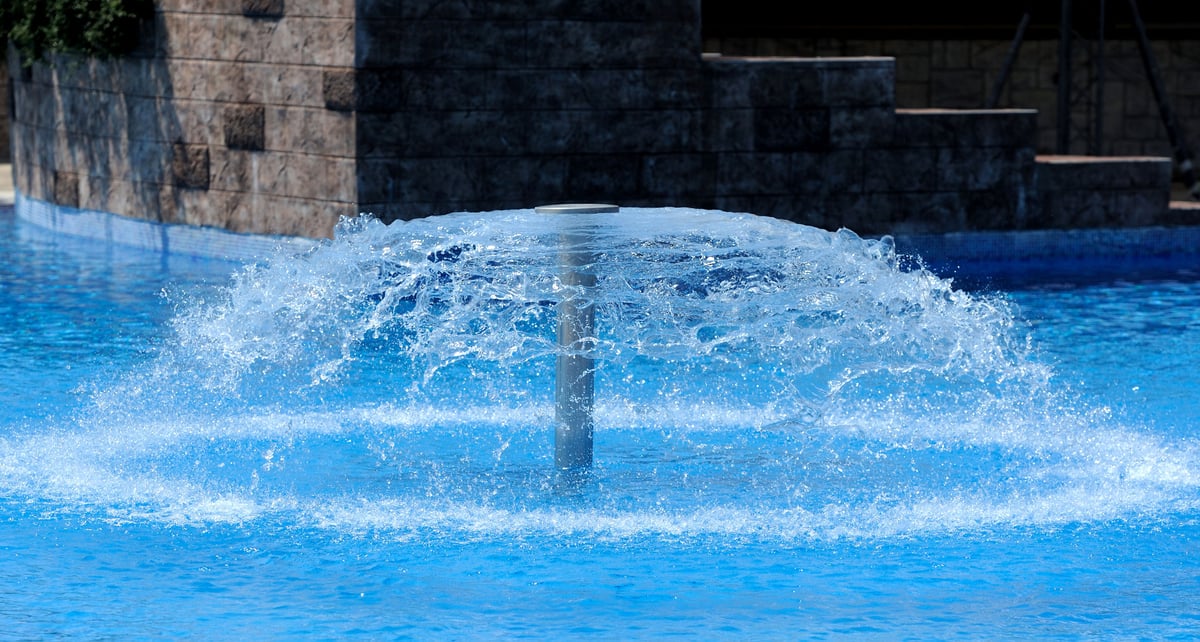 Decorative fountains, from simple cascades to highly elaborate sprays and waterfalls, are common across the globe from parks and outdoor attractions to hotel reception areas, shopping centres and even cruise ships. There is no doubt that they can add interest to an area and provide a source of pleasure and even tranquillity for those who are exposed to them. However, it is important to remember that they may also expose people to Legionella bacteria, which is a far less appealing feature!
All decorative fountains will produce aerosols(1) from the water to some degree and this is one of the major risk factors for spreading Legionella bacteria when it is present in a water system. This should be a warning light for anyone responsible for a decorative fountain but should not mean that we cannot continue to enjoy these visual delights in most environments.
Historically, outbreaks of Legionnaires disease associated with decorative fountains have often been identified in healthcare or retirement facilities(2). Thankfully it has now widely been recognised that these locations where the most vulnerable individuals risk exposure should be free from decorative fountains completely(1).
However, given the varied locations of decorative fountains and the potential for people of all ages and health levels to visit their vicinities then it is important that they are not forgotten about when duty holders are considering water safety. They should be aware of the risks and have a range of checks in place to ensure their continued safety.
Aside from healthcare settings, outbreaks of Legionnaires' disease from water fountains and features have also occurred from those situated in restaurants, hotels and town squares to name but a few examples (3,4,5). In many cases, the cause has been due to poor maintenance which allowed the bacteria to colonise and proliferate(5).
Whilst an unsightly film of green slime or sludge or a dubious odour might be an obvious indicator of a poorly maintained fountain, there are other less recognisable or hidden indicators which need to be considered. In one hospital-related outbreak, it was the semi-porous foam under some decorative stones used in the feature that was eventually found to be harbouring the Legionella which then allowed reseeding of the water even after cleaning(2) .
Due to the varying styles of decorative water fountains, risk assessments and steps to reduce the potential for Legionella growth will need to take into account the nature of the fountain and different elements of its construction. Many aspects should be considered when looking at the risks including (1):
Location

Size

Nature of the water feature

Equipment used
An outdoor water feature which creates a fine mist has a greater ability to spread water droplets on a windy day and is more difficult to maintain at a cool temperature on a sunny day. Pumps may help keep water from stagnating but these may heat the water slightly increasing the risk of bacterial growth. Submerged lighting may look impressive but will also increase the water temperature(6). All evidence of the complex nature of the risks and the importance of understanding how to combat them.
Considering the complexities of different fountains, what steps can be taken to ensure Legionella risks are kept to a minimum in water fountains?
Water supply should be cold potable water with a temperature maintained below 20°C

Water parameters including temperature and disinfection residual should be monitored regularly

Prolonged idle periods should be avoided, and fountains run daily if possible. If a fountain is shut down for a long period, e.g., over winter, then a thorough clean should occur before restarting the fountain

Regular dosing of disinfectants and algicides should occur

Cleaning should be carried out at regular intervals paying particular attention to sediment build-up, debris, biofilm etc.

Pumps, filters and other equipment should be checked regularly to ensure they are working properly.

Water should be tested regularly for Legionella to check the above control measures are effective. The frequency and nature of this testing may vary depending on the individual fountain and who is exposed. Ideally, testing should not only be of the bulk water, but also of biofilm swabs where the Legionella is most likely to colonise.
If the above checks and maintenance steps (1,6) are not implemented and strictly followed, then water features quite simply should not be used in public settings as otherwise the risks of infection from Legionella bacteria will outweigh any benefits from the enjoyment and tranquillity they offer.
---
Here is another thought - Las Vegas has many famous decorative fountains.
The city also has many visitors passing by these fountains daily.
We spoke to an establishment that has such a water feature and asked them on average
how many people walk past their water feature each day.
The answer was 15,000 per hour. Sending a sample off to a lab could take up to 10 days to get a result, so how many people are potentially at risk during this wait time?
Let's do the math.
15,000 people per hour pass the fountain (375,000 people per day)

10 days before knowing the water is infected with Legionella means 3.75 million people could be exposed to this deadly bacterium if it is present
---
You can find out within 25 minutes if you have a Legionella problem with Hydrosense. We offer a range of test kits for both water and biofilm which can be used as a part of the maintenance plan for decorative fountains and can provide quick and easy reassurances of safety from L. pneumophila sg1, ensuring water fountains can continue to be used and enjoyed safely wherever they may be located.
References:
Control. Hosp. Epidemiol 2012 Feb; 33(2) 185-91