In the UK, and in most EU countries, it is a legal requirement to manage and control Legionella risk. Responsible persons are expected to carry out risk assessments and put measures in place to reduce the growth of Legionella, and the risk of Legionnaires' disease.
Legionnaires' disease is a serious pneumonia like infection which can cause fatal respiratory complications and in severe cases, causes pus to build up in the lungs, triggers shortness of breath and leads to confusion, organ failure and death[1].
Click Here to find out more about Legionella and Legionnaires' Disease
Any man-made water system which recirculates water and creates aerosols or tiny water droplets is at risk of spreading Legionella, and Legionnaires' disease. The risk presented is directly linked to the size, complexity and age of the system. Old water systems with vast, complex pipework are more likely to have dead legs and temperature disparities, causing Legionella to grow is vast numbers.
"In human-made ecosystems, the occurrence of Legionella has been responsible for human infection and appears to be particularly linked with warmer systems, where up to 85% of sites may contain the pathogen[2]."
What is the effect of Temperature on Legionella growth?
At 40 degrees Celsius, Legionella are at their most abundant. However, temperatures ranging anywhere between 20 and 45 degrees Celsius can provide Legionella with optimal conditions for rapid growth[2]. These temperatures are to be avoided in any water system but especially in high risk systems, where vulnerable individuals are present (in health care facilities for example).
Studies have shown that at temperatures above 50 degrees Celsius, Legionella rapidly declines. The UK Department of Health and Social Security Code of Practice states that hot water should be stored at temperature above 60 degrees Celsius and that returning water should be maintained at 50 degrees Celsius, to kill any Legionella present in the water system. They also state that cold water should be maintained at temperatures below 20 degrees Celsius to minimise and discourage growth[2].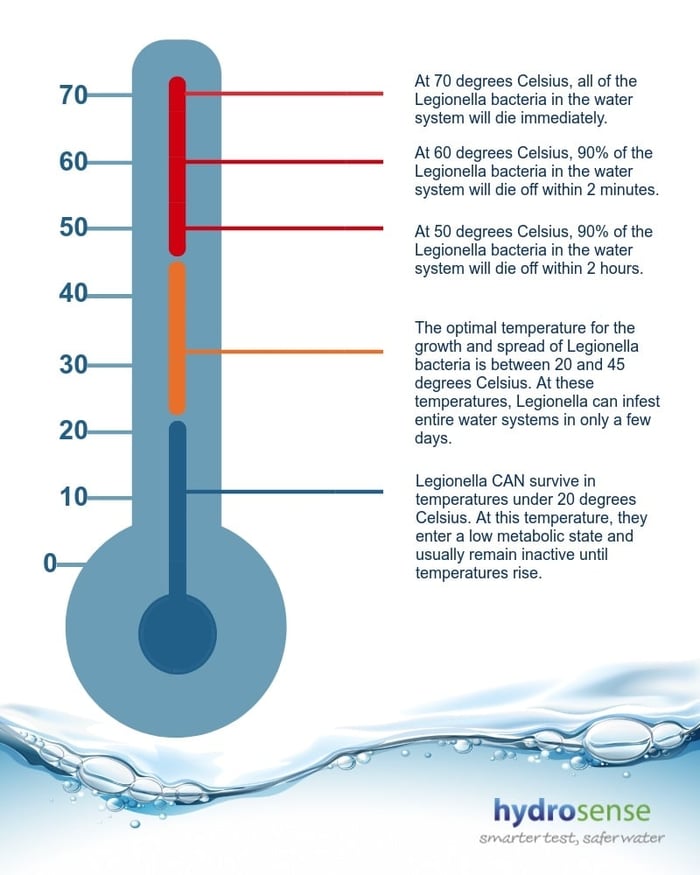 Despite the suboptimal conditions, Legionella can still survive in water systems maintained at 20 degrees Celsius or lower. At these temperatures amoebae are still present in the water system and provide Legionella bacteria with nutrients and protection. The bacteria will however, enter a low metabolic state [2] which limits multiplication until temperatures rise again.
What does this mean for your organisation?
Monitoring your hot and cold-water systems is necessary for high quality water management and risk mitigation. Failure to do so can lead to severe outbreaks, extensive reputational damage and huge fines. It is also important to test for Legionella whenever controls fall outside of their limit, especially in old water systems with lots of pipework and dead legs because legionella can multiply rapidly and infest the entire system.
While testing quarterly is often adequate for facilities that are well designed, and well managed, more frequent testing is highly recommended for water systems that are kept at low temperatures deliberately (to avoid scalding, increased costs and because of the limitations presented by old systems) [2]
In most cases, infection has occurred when systems have been left to operate outside of the suggested guidelines. And while high temperatures have proven to be extremely successful for purging water systems of Legionella, the bacteria have been found to survive in temperatures as high as 63 degrees Celsius, in natural water systems[2]. Therefore, having a risk assessment done every so often may not be enough to protect you, your staff and the general public from Legionella or the devastating effects of Legionnaires' disease. For this reason, it is important to equip yourself with fast, easy to use tools for frequent, timely testing and peace of mind.
Remember! Time of year has a huge impact on the growth of Legionella. As temperatures rise in the summer months, so does your risk of Legionella! Keep this is mind when planning your risk assessments.
Doing the bare minimum is NOT a good practice.
Don't risk it. Test it.
Find out more about Legionella and Legionnaires' disease
Sources:
[1] Henderson, D. (2017). Patient.info. Available at: http://bit.ly/2kJ8jov [Accessed 1 May 2018].
[3] Rogers, J., Dowsett, A., Dennis, P., Lee, J. and Keevil, C. (1994). Applied and Environmental Microbiology. Available at: http://aem.asm.org/content/60/5/1585.full.pdf+html [Accessed 3 May 2018].