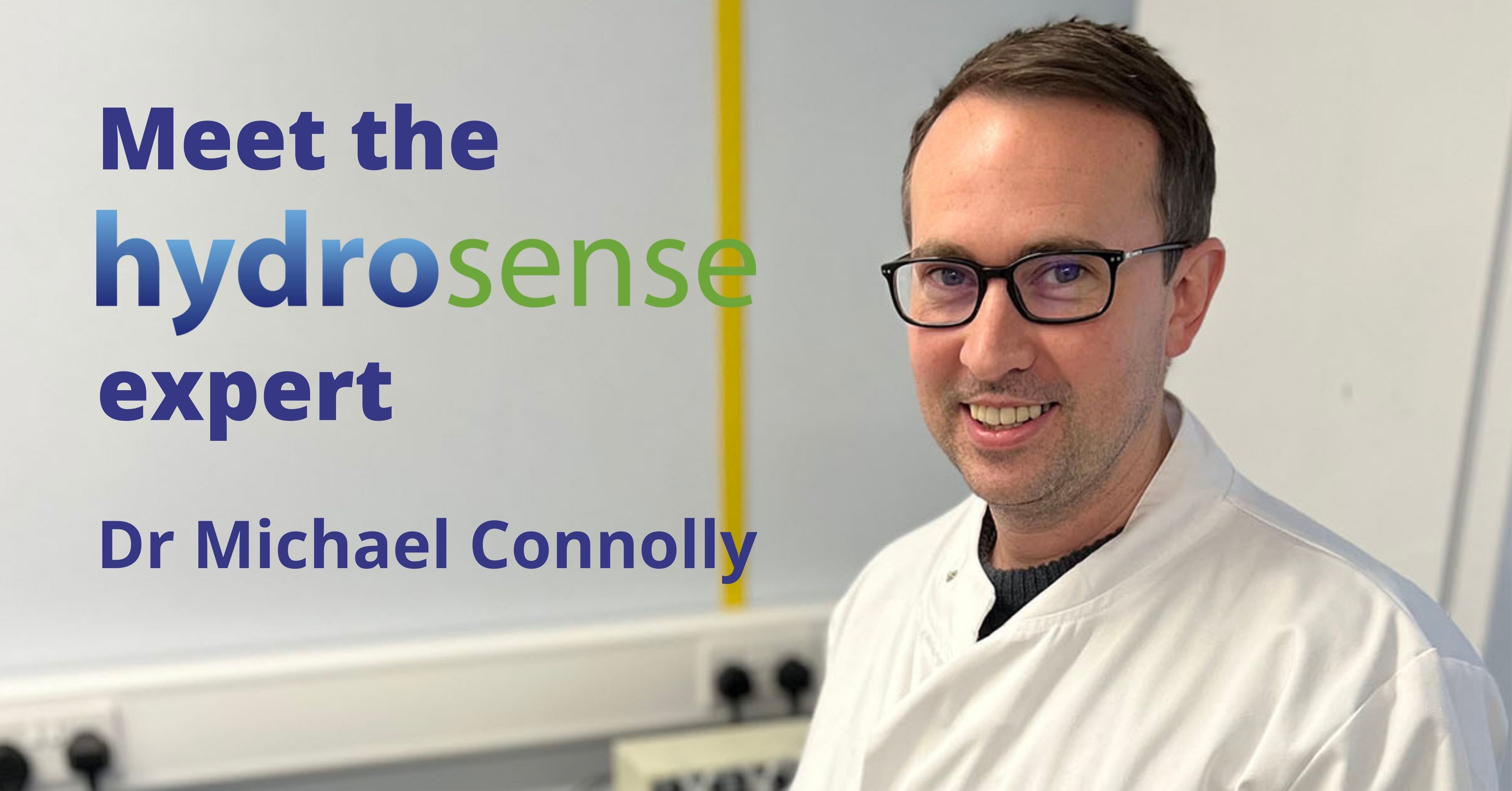 We thought it was time you got to know whose skill and expertise is behind our technology so our first introduction is Dr Michael Connolly, our resident Head of Development here at Hydrosense.

To give you a sense of who Michael is, we asked him a few questions:

1. Tell us about your background and how it supports your expertise?

I studied Microbiology for my undergraduate and then decided to stay in education and got my PhD studying gut bacteria and its impact on the risk of developing metabolic disease.

My PhD was funded by a commercial company, and I really enjoyed that type of team working environment compared to academia, so I knew I wanted to move over to commercial but still in an R&D role.

I've worked for over 10 years in a range of life science industries including biomaterials, pharmaceutical and microbiology contract research organisations during which time I have focused on microbiology, product development and quality control.


2. What cool things have you been involved in prior to Hydrosense?

In a previous position I was 3D bioprinting things like noses and ears which was really cool. And it wasn't just for my own amusement!

The concept was to take someone's cells and grow them in the 3D structure and use it as an implant.

3. What are you really passionate about?

What I really enjoy is bringing new innovative technologies to market, that really make a different to people's lives and seeing them being used in the field.

I feel proud that, with Hydrosense, I play a part in something that adds real value by helping the water industry to keep people safe. Every time someone gets a positive with one of our tests it feels good to know that we may well have saved someone's life, especially as the traditional Lab Culture test would take up to two weeks or more to alert the water professional to a serious problem.

4. Tell us something really insightful about the technology behind the Hydrosense Legionella tests.

The Hydrosense rapid tests are Lateral flow tests. This technology has become much more widely known to the public through pregnancy tests and, more recently, for COVID-19. Many of them work in a similar manner in that they use antibodies attached to gold particles (gold gives the colour to the test line if the sample is positive) which bind to the antigen of interest. These are Lateral Flow Immunochromatographic Assay (LFICA) type tests. 'Immuno' here referring to antibodies which in our case are Legionella antibodies. 'Chromatographic' referring to the use of a visible, coloured 'signal' particle attached to the antibody which is where the gold nanoparticles come in.

The antigen can be lots of things like a drug or hormone and in our case it's bacteria. More precisely, very specific components from the cell wall of Legionella pneumophila serogroup 1.

These components are an ideal antigen target as they are plentiful on the Legionella pneumophila outer membrane so there is a lot of it available if Legionella pneumophila is present in your water system.


5. What hurdles have you overcome in your time with Hydrosense?

When I first joined the company, the HydrosensePro App was going through an upgrade with an improved reader. So, I spent a serious amount of time reading test strips of all hazard index's (from 10 to 0) and in all the types of water you are likely to find in real world samples.

Science in the lab can often be repetitive but this was "repeat" on a whole other level. It was important to get it right though, especially when you are using the App to distinguish between a negative sample and a very faint positive, so I dug deep to get the reliability we needed.

It was a huge amount of work, but essential and rewarding. The App improves accuracy and confidence when using our tests and provides an audit trail which allows for immediate notification to duty holders via email and text, so action can be taken quickly if a positive result is delivered.

6. What breakthroughs have you seen or been part of?

In my experience, breakthroughs or eureka moments in science are very rare. It's often more like "that was a small improvement, let's try more of that" or more often "that made no impact whatsoever so won't bother with it".

And this goes on and on, chipping away at the problem until you get to your final solution, and that's when you get a major high and sense of achievement.

We're at this point with our new product which we know will be a game changer for many customers. Still holding onto our rapid principles, this test will do even more to detect Legionella risk. I can't say more right now but this will be a eureka moment for everyone in the water industry.

7. Finally, why do you like working for Hydrosense?

There's lots of reasons I like working at Hydrosense, but the main things are that it provides the team environment I wanted but still allows scope for me to innovate and bring my own ideas to to the table when developing new products or when looking to improve our current products.

So, from printing actual ears and noses to being part of a team that created a reliable solution to detect Legionella in 25 mins…having Michael's expertise in the Hydrosense team is a true eureka moment in itself.