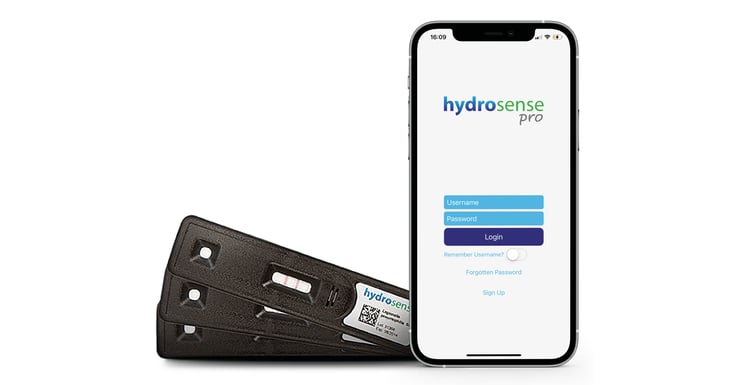 Hydrosense Pro - the smarter way to test for legionella
Taking control of your Legionella testing program couldn't be easier with the Hydrosense App and online portal.
It is a safe, customisable mobile-based reader and online storage system which reads Hydrosense Legionella tests accurately and allows water management companies and their clients to store and share test results securely and seamlessly.
It allows engineers to monitor water systems and plan remedial work remotely, only having to attend sites to carry out necessary work. That's really handy when COVID-19 restrictions and guidelines are ever changing.
The data collected by the App is automatically synchronized with the Portal and
provides a user with a semi-quantified result by returning a score of "0" for no Legionella detected, or a Hazard Index of "1-10" depending on the concentration of the Legionella found.
This information can trigger an alert to a duty manager to ensure timely action planning if a positive result is delivered.
The simplicity of the Hydrosense test means that anyone can carry out testing and use the App and Portal.
The Benefits of the App and Portal:
Records batch number, date, time, user, test location and result information

Provides i

mmediate notification of positive results to Duty Holders via email or SMS, to facilitate fast remedial action and to reduce downtime

Schedules Alerts/reminders for future testing

Creates an Audit Trail and customised printable certificates

Detects even the faintest positive line which the naked eye might miss

Integrates the data captured with water management service desks

Provides temperature alerts (when trending to Legionella growth range)

Allows storage of temperature and biocide information

Includes the ability to download the data from the portal into your own database

Has a completely customisable hierarchy for the management of several organisations, multiple sites and locations

Provides a central repository for better epidemiological and risk analysis
With Hydrosense, easy on-site Legionella testing kits can be distributed to clients and the result data can be accessed by engineers from anywhere in the world. All they will need is a phone, laptop and an internet connection.
So how does it work?
Download the Hydrosense Pro App and follow the on screen instructions

You can download the App via the Google Play or the Apple Store

Create an organisation hierarchy within the App based on your water management structure

This will allow you to set up

appropriate alerts

Create a schedule to automatically alert you to test your water system

This easy to set up feature will ensure you never miss testing time

Carry out the Hydrosense Rapid Legionella Test

Simply follow the enclosed instructions

for our water or swab tests

Scan the test strip using via the App

Tap the barcode to focus the image.

The reader will automatically scan the test

Results will be delivered in

real time to a Duty Holder

An automated email will be sent to

allow for immediate review

and action planning

Access your results

All results will be stored securely in the

Portal for you to review and analyse

at any time
About Hydrosense
Hydrosense provides the world's only ultra-fast Legionella rapid testing solution which helps facilities to test for the most dangerous strain of Legionella bacteria, Legionella SG1 – which is responsible for almost all of the most serious cases of Legionnaires' Disease.
By incorporating Hydrosense into water management control plans, customers can detect high-risk problems with Legionella risk in any water system within 25 minutes.
Download the App today on the App Store or Google Play.