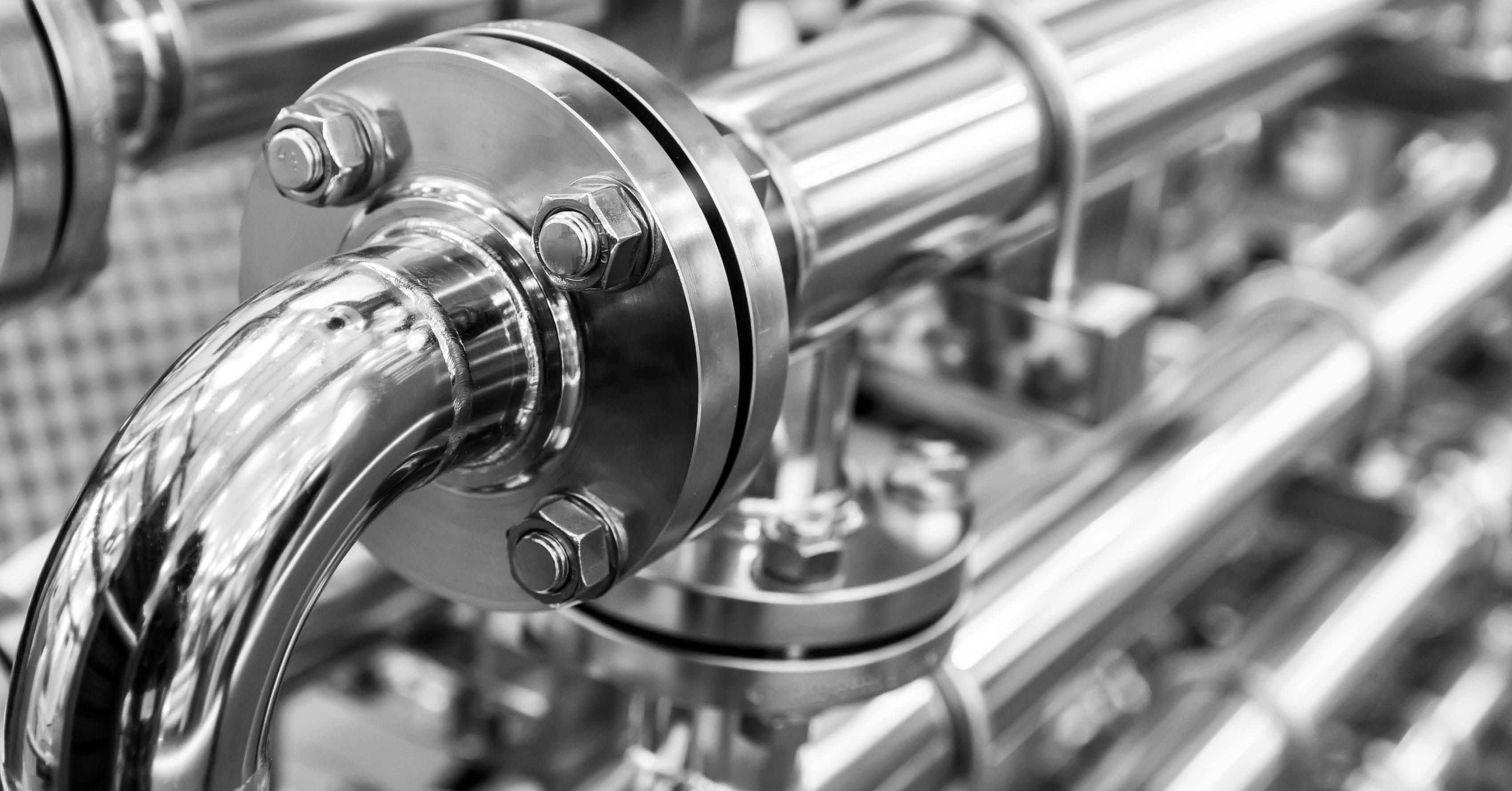 Countries across Europe are now starting to relax their national lockdown restrictions. In the United Kingdom, the government is now lifting bans on outdoor exercise and is permitting those who cannot work from home to go back to work. France, Spain and the Netherlands are going further by allowing some schools and commercial premises to reopen. Some social distancing measures are however, being enforced to prevent COVID-19 spread.
There are growing concerns amongst public health and water management professionals about the threat of Legionnaires' disease as buildings such as schools, hairdressers, cinemas and shops reopen, especially where water systems have not been maintained during lockdown, or decommissioning has not been carried out with proper care.
In a recent article in The Times, Professor Hugh Pennington, professor of bacteriology at the University of Aberdeen, warned that potentially deadly Legionella bacteria will have been growing in factories and other businesses during this period of closure. He cautioned that if this is the case, then these facilities can expect a Legionella outbreak, if not several, when they start re-opening.
Additionally, the Legionella Control Association, a voluntary organisation whose members include providers of products and services which manage Legionella in water systems, has said that
"Simply reopening a building that has stood idle, without addressing the safety of its water system, is unacceptable and is likely to be in breach of the law. If duty holders are not able to put in place a proper recommissioning process to use the water system safely, they should not reopen the building. In addition to Legionella risk, drinking water retained within buildings may no longer be potable following a period of prolonged stagnation".
Legionella bacteria, which causes a potentially fatal pneumonia-like infection, with practically identical risk groups and symptoms to COVID-19, thrives in stagnant water and presents a serious public health risk where:
Systems have not been flushed,
Systems have experienced thermal gain,
Or where there has been substantial growth in biofilm (which can act as a host for Legionella bacteria and can protect it from heat and chemical treatment).
Additionally, a study by Chinese doctors has found that around 20% of COVID-19 suffers were also infected with Legionnaires' disease, which suggests that the pandemic has put persons at an increased risk of developing the infection whilst in recovery and possibly for months following recovery.
Recommissioning water systems during the exit phase of this pandemic could be a lengthy process and multiple rounds of work may be needed to bring systems into safety. The specific requirements for recommissioning will depend on various factors, such as whether the system has been maintained over the course of lockdown, the size or complexity of the system and the vulnerability of persons on-site.
We polled a diverse group of water management professionals from all around the world to find out just how serious this Legionella threat is. When asked how much risk they believed was presented by low use or stagnant systems after COVID-19, 86.4% said that the risk presented was high to very high. When asked if speed of recommissioning was critical for them and their customers, 93.3% of water management professionals and duty holders we asked said that speed of recommissioning was absolutely critical for clients.
However, the whole recommissioning process if carried out properly could take up to a month, if not longer, especially where multiple rounds of work is required. Two rounds of flushing and sampling for example, which may be suitable for smaller systems or systems which have been in use during lockdown, could take 16 - 30 days to complete because of the long waiting times for lab culture results from a lab.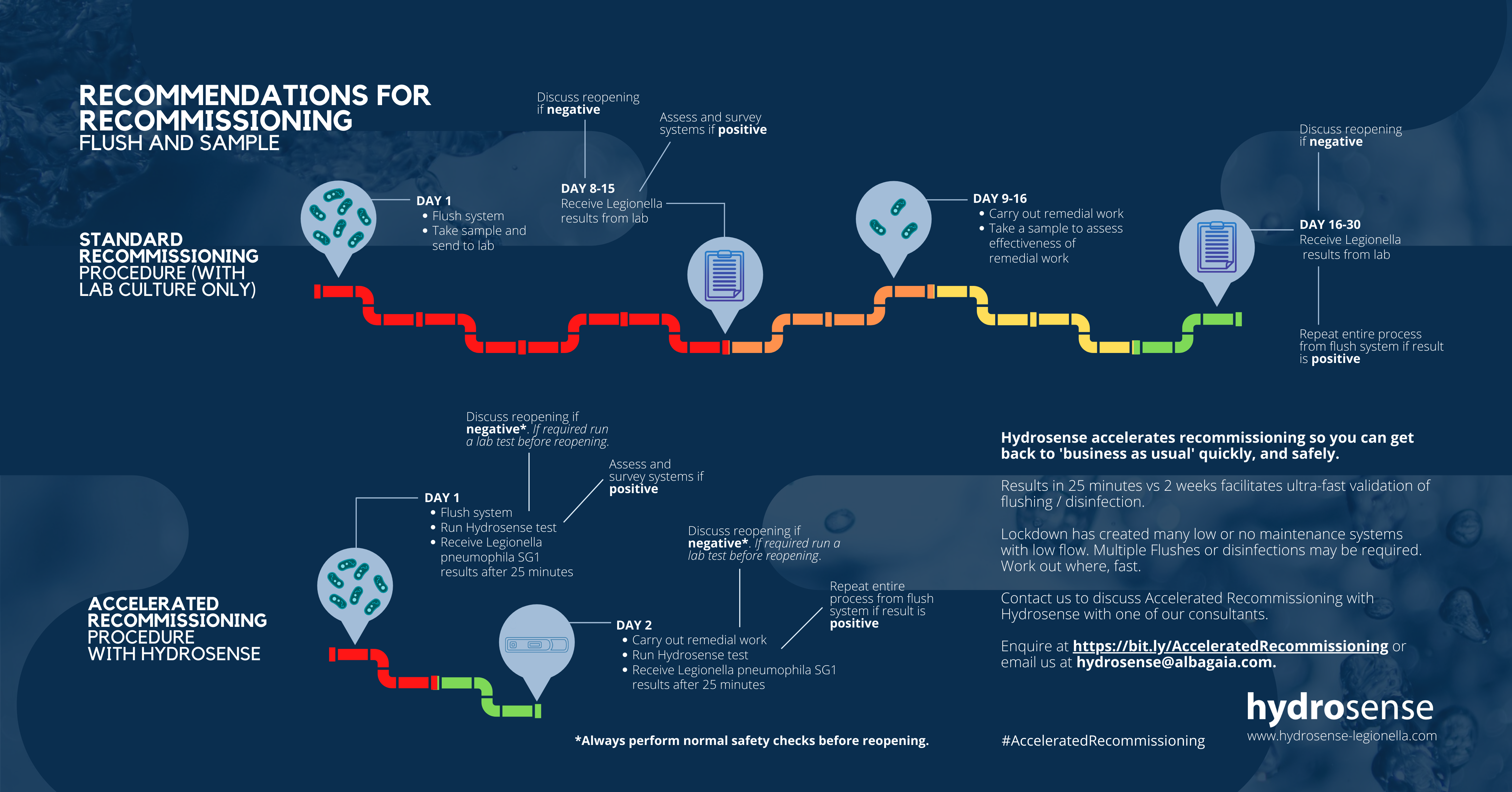 For larger systems and systems which have not been in use during lockdown, system disinfection would be more appropriate. Two rounds of disinfection and sampling could take as long as 28-35 days to complete.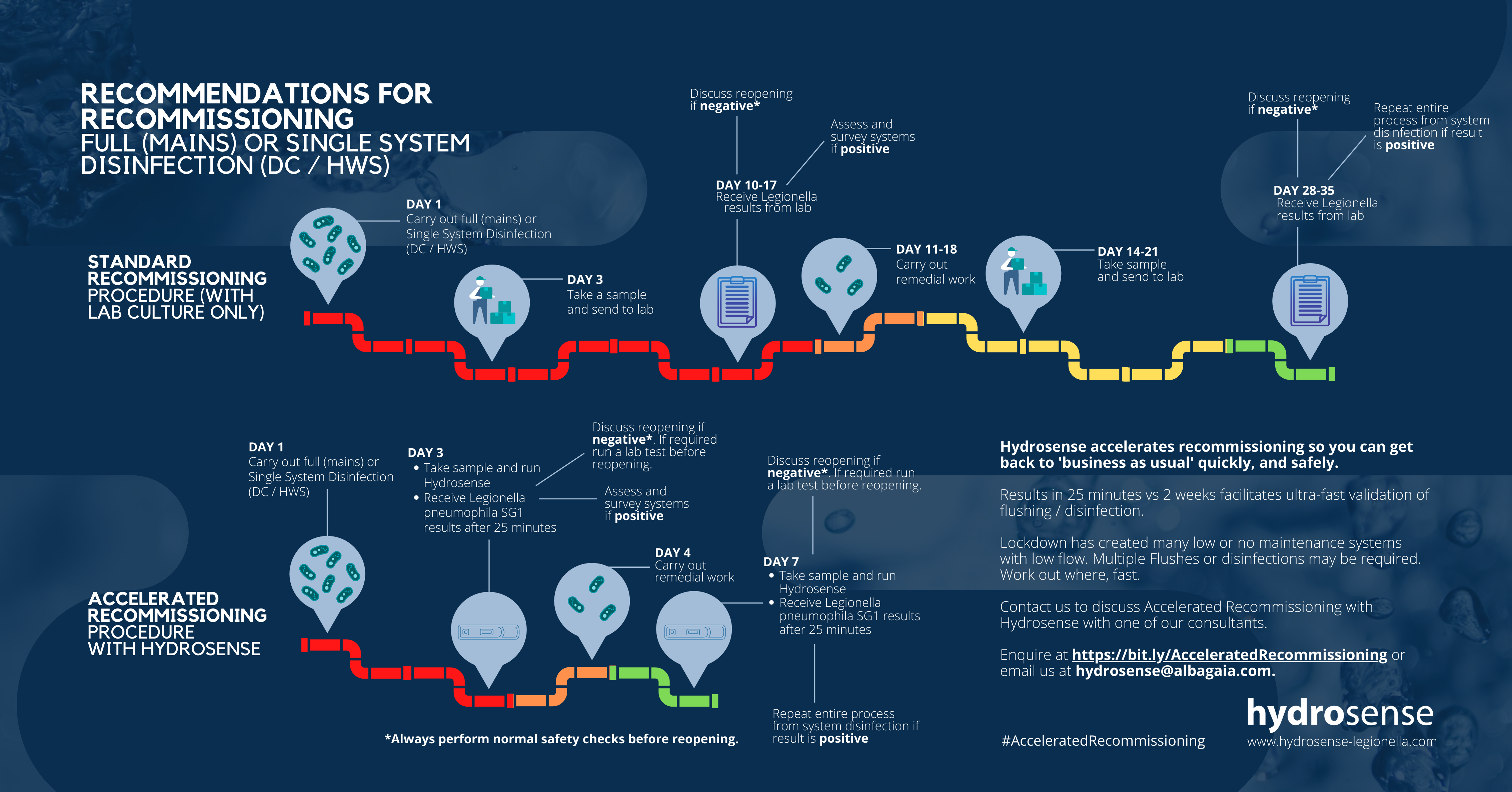 Download our Accelerated Recommissioning infographics here.
While it usually takes a lab around 7-14 days to process Legionella samples, there could be backlogs due to the number of buildings all carrying out sampling at the same time. The LCA has recommended checking with your lab before sending over large quantities of samples.
Hydrosense, can help speed up the recommissioning process and mitigate risk for you and your clients by providing accurate ultra-fast results for the most dangerous strain of Legionella, Legionella pneumophila SG1.
Not only does the simple test provide accurate results in only 25 minutes (as opposed to 10-14 days like lab culture), significantly reducing the time required for individuals to be on-site, it can also be used in isolation by anyone. Hydrosense provides a rapid indication of the success of recommissioning, allowing businesses to get back to 'business as usual' quickly, and safely.
Multiple outbreaks of Legionnaires' disease following lockdown is possible and several rounds of cleaning and disinfection may be required. However, with Hydrosense the time taken to carry out multiple cleans can be reduced dramatically.
Hydrosense accelerates recommissioning so you can get back to 'business as usual' quickly, and safely.
Results in 25 minutes vs 2 weeks facilitates ultra-fast validation of flushing / disinfection.
Lockdown has created many low or no maintenance systems with low flow. Multiple Flushes or disinfections may be required. Work out where, fast.
Contact us to discuss Accelerated Recommissioning with Hydrosense with one of our consultants.
Download our Accelerated Recommissioning infographics here.
#AcceleratedRecommissioning #SaferwithHydrosense
More Like This: