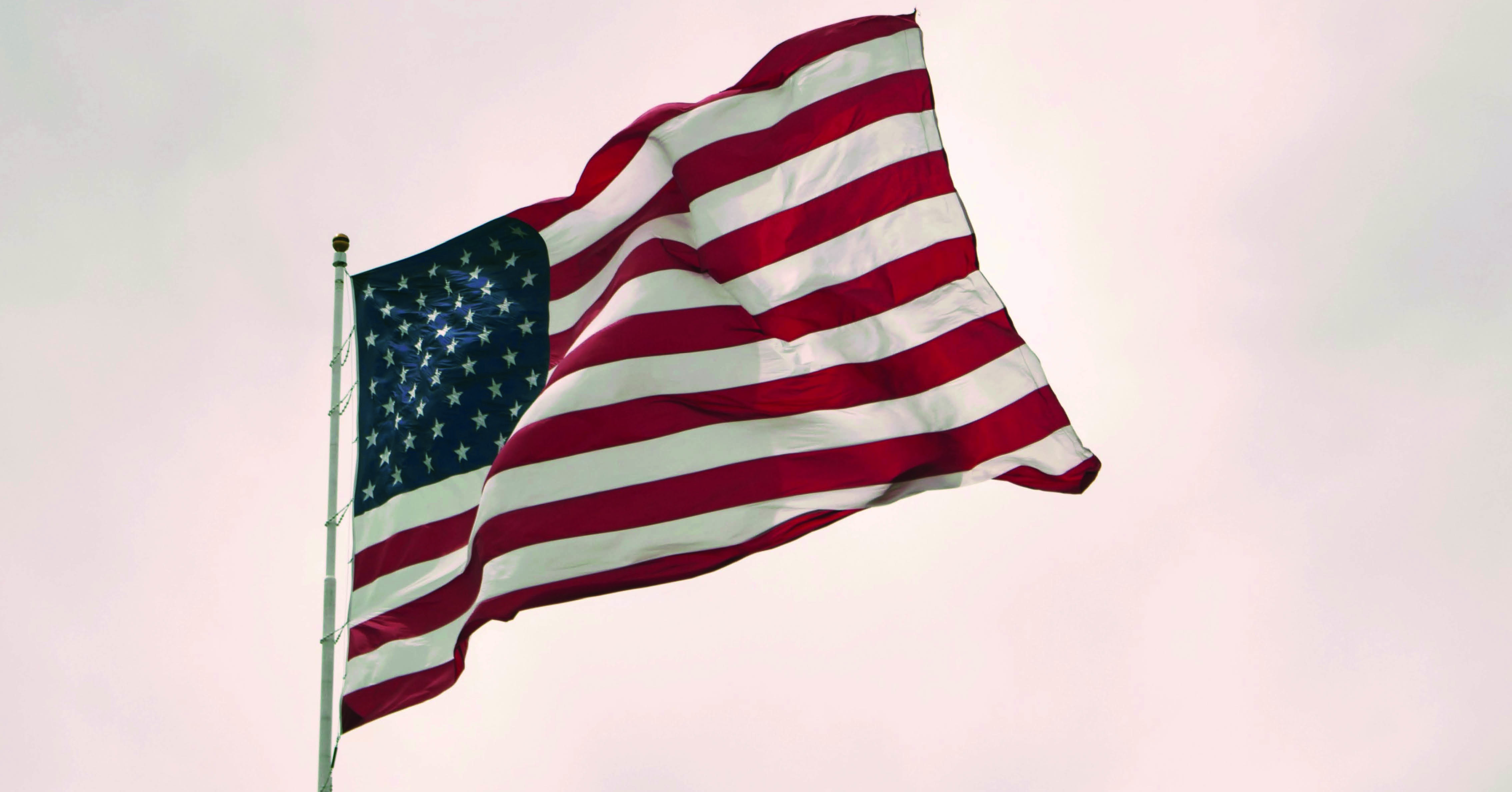 Legionnaires' disease is a severe form of pneumonia, which causes potentially fatal complications to occur within human lungs. If the infection is not contained or treated early on, tiny air sacs (which can be found at the end of the breathing tubes in the lungs) fill up with fluid and pus and stop oxygen from passing into the blood.
This causes carbon dioxide levels in the body to soar, triggers shortness of breath, and if the brain cannot get the oxygen it needs, can cause confusion, comas, heart failure and ultimately death1. The infection can also stop the kidneys from filtering blood, causing a build-up of toxic waste products in the bloodstream, as well as severe sepsis which can cause blood clotting, low blood pressure and organ failure2.
About 1 in 10 people who gets sick from Legionnaires' disease will die3 and survivors of the infection can experience debilitating long-term health impacts. Those who are lucky enough to survive Legionnaires' disease can experience severe life-changing and long-term health impacts.
A study carried on 122 survivors in the Netherlands found that survivors of Legionnaires' disease suffered from chronic fatigue in 75% of cases; had neurological symptoms (such as short and long-term memory loss) in 66% of cases; neuromuscular symptoms (such as muscle pain and loss and movement issues) in 63% and post-traumatic stress disorder (PTSD) in 15% of cases. On average survivors of Legionnaires' disease have a 1.5-year decrease in their health-related quality of life4.
In 2018, the Centers for Disease Control and Prevention (CDC) reported a record 8,356 cases of Legionellosis in the United States, which includes cases of Legionnaires' disease and Pontiac fever5, a milder flu-like illness with symptoms such as fever, headache and muscle aches. In November 2019, CDC revised their initial number up by 18.8% to 9,933. Reports state that a "vast majority" of these cases were in fact attributed to the more severe form of the infection, Legionnaires' disease5.
Previous reports from CDC have shown that Legionnaires' has been rapidly increasing since the early 2000 and data from the National Notifiable Diseases Surveillance System shows that between 2000 and 2017 cases of Legionnaires' disease in the United States had grown by over 500%2.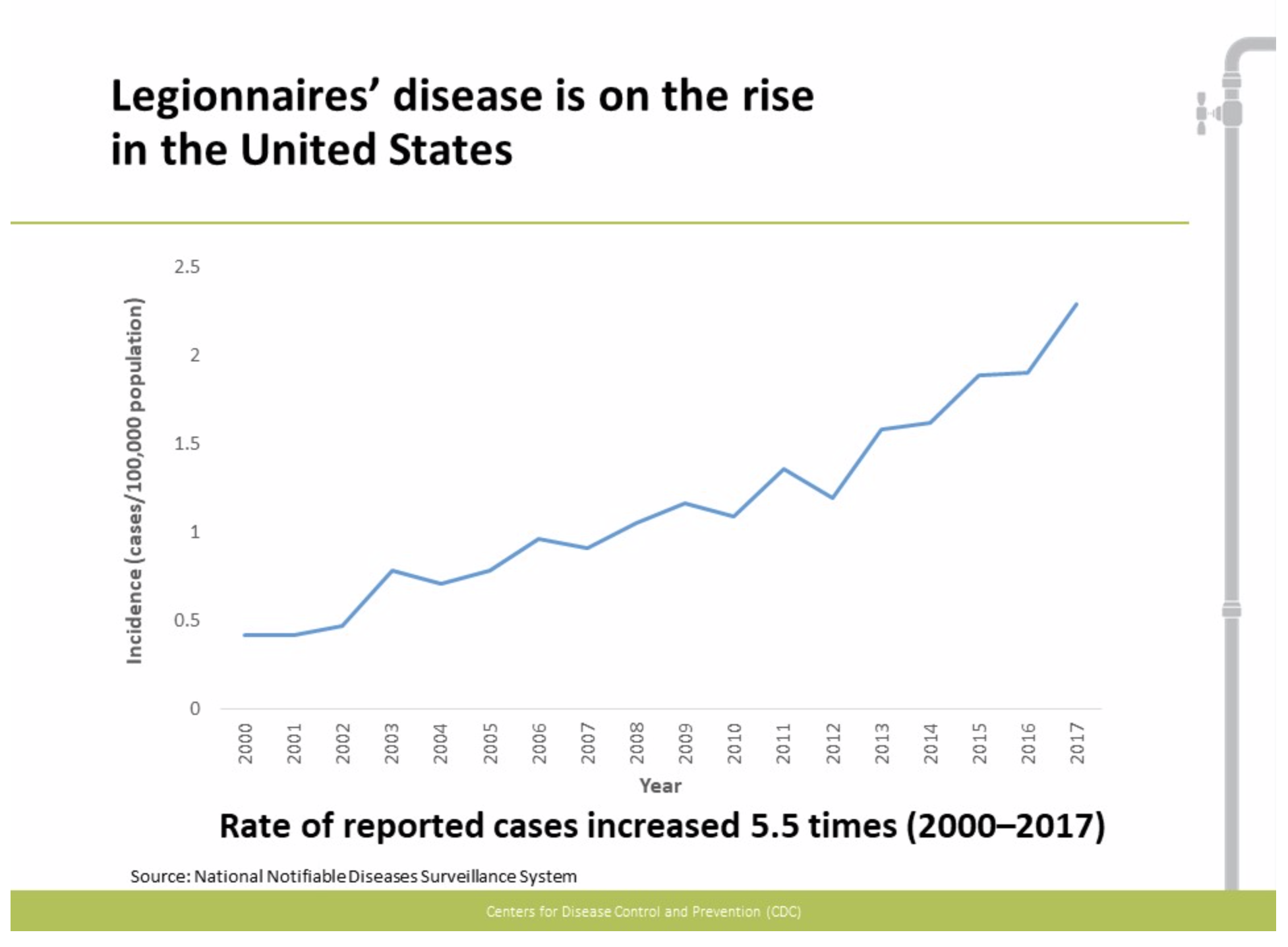 Source: https://www.cdc.gov/legionella/about/history.html
Health departments in the US report thousands of cases every year however, there is widespread agreement in the community that these figures grossly underestimate the real number of cases5. While health departments released figures reporting around 6,100 cases in 2016 and 7,500 cases in 20175 but CDC believes that the actual number is closer to 18,000 and the National Academies of Sciences, Engineering and Medicine (NASEM) recently released an article which estimated the number could be as high as 70,000 cases per year6!
Great attempts have been made in recent years to reduce Legionella risk to protect the most vulnerable to infection, such as those with weakened immune systems, the elderly, smokers and heavy drinkers. In 2016, New York passed some of the most stringent Legionella laws in the whole of the United States for cooling towers and in 2018, the Centers for Medicare and Medicaid Services (CMS) revised their expectations for providers, accrediting organizations and surveyors to include requirements to reduce Legionella risk in health care water systems.
Unfortunately, CSM did not go as far as to mandate Legionella testing, despite recommendations for leading organisations in the field to do so6, and cooling tower outbreaks continue to be a problem for the city of New York7. In many states across the USA, Legionella testing is still not required by law and the consequences of this can often be seen in the news.
Throughout 2019, Legionella and Legionnaires' disease continued to make headlines with outbreaks arising in Atlanta, Georgia, Ashville, and North Carolina. Investigations carried out by CDC show that almost all outbreaks are caused by water system issues that would have been preventable with better water system management8, demonstrating the needlessness of this growing public health crisis.
By improving water management, establishing robust and consistent legal frameworks and incorporating targeted Legionella testing into corporate health and safety culture, extraordinary progress could be made in reducing Legionella risk and improving quality of life for Americans.
If you want to find how you can reduce Legionella in your business, please see our 10 Top Tips for Reducing Legionella Bacteria in Businesses and Industrial Settings.
More like this:
Legionella Regulations in the US | Guidelines on Legionella in Water Systems USA
Rainfall and Climate Change Resulting in Increased Risk of Legionella?
References